*RE-ACCREDITED 'A' GRADE AT 3.28 CGPA BY NAAC * RECOGNIZED BY NCTE & UGC UNDER SECTION 2(F) & 12(B)
* COVERED UNDER 95% DEFICIT GRANT-IN-AID SCHEME BY GOVT. OF PUNJAB
* PERMANENTLY AFFILIATED TO G.N.D.U. AMRITSAR
M.ED TIME TABLE - Semester - 1
Period

I

II

III

IV

V

VI

V II

Days/ Timings

9.20-10.00

10.00-10.40

10.40-11.20

11.20-12.00

12.00-12.40

12.40-01.20

01.20-2.00

MON

P1

P2

P3

R
E
C
E
S
S

P4 (a)

 Stats

Prac.(I)

TUE

Do-

Do-

Do-

Do-

  Do-

Do-

  Do-

WED

Do-

Do-

Do-

Do-

Do-

Prac.(II)

THU

Do-

Do-

Do-

P4 (b)

 P4 (c)

Do-

FRI

Do-

Do-

Do-

Do

Do-

Stats

SAT

Do-*

Do-*

Do-

Do-

Do-

Do-
* Note: In case there is no Morning Assembly, the scheduled 1st & 2nd Period will continue on Saturday also.

ALLOTMENT OF WORK (THEORY & PRACTICALS) M.Ed. Programme

Paper              Course Title                                     Teacher Incharge

I                  Philosophy of Education                              Dr.Maninder Kaur




II   Psychology of Learning and
Development

III   Introduction to Educational
Research Methodology

Dr.Bindu Sharma (Mon-Wed.)

Prof.Manpreet Kaur (Thur. - Fri.)

Dr.Harpreet Kaur (Mon- Wed)

Prof. Satinder Dhillon

Dr.Suman Saggu (Thu- Sat.)

IV Secondary Stage Specialization            

(a) Dr. Deepika Kohli
(b) Dr. Nirmaljit Kaur
(c) Dr. Gurjit Kaur
Practicum-I    Communication and Expository

Writing  Prof.Anju Tyagi
Practicum-II   Self-Development Programme                 Prof.Manpreet Kaur
                                                                                            
N.B.:  
(i) Attendance in morning assembly and other college functions is compulsory for all the students and the teachers. (ii ) Students will attend morning assemblies & other college functions in proper uniform.
(iii )No adjustment/exchange of periods/classes is allowed. Taking of classes in the open or rooms other than allotted is not permitted.
(iv ) Use of mobile phones in the college premises is not allowed.
Room Allotment- M.Ed. Room – Old M.Ed. Room
Syllabus
Master of Education (M.ed.)
BACHELOR OF EDUCATION (B.Ed.)
PGDCA (TEACHER EDUCATION)
About College
Our History
Management
Guest House
Journal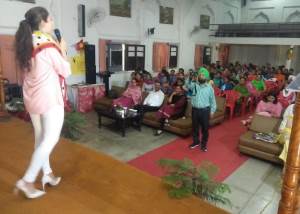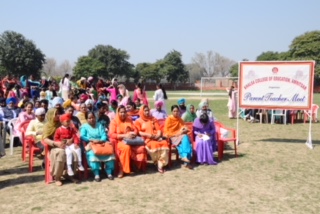 ---