*RE-ACCREDITED 'A' GRADE AT 3.28 CGPA BY NAAC * RECOGNIZED BY NCTE & UGC UNDER SECTION 2(F) & 12(B)
* COVERED UNDER 95% DEFICIT GRANT-IN-AID SCHEME BY GOVT. OF PUNJAB
* PERMANENTLY AFFILIATED TO G.N.D.U. AMRITSAR
GANDHIAN STUDIES CENTRE
Gandhi ji visited Khalsa College in 1919 after the Jallianwala Bagh massacre. Inspired by the visit of Mrs. Tara Gandhi Bhattacharyajee (maternal Grand daughter of C.Raj Gopalcharayajee, the 1st Governor General of India & grand daughter of  Mahatama Gandhi Ji )to Khalsa College of Education, Amritsar in Jan 2007,the college started many projects on Gandhi Ji's life & Philosophy. Shobhana Radhakrishnan, started Gandhian Bhaithaks & Gandhian Katha in the college , since she devoted her entire life preaching Gandhian Philosophy at Sabarmati Asharam, Ahemdabad . Her discourses created a new aura in the college. The college established Gandhian Studies centre under the scheme of Epoch making social thinkers of India during the 11th Plan with the help of University Grant commission . the UGC has given a grant of Rs.9 Lacs for the establishment of Gandhian studies centre. The present composition of this study centre is as under :
| | |
| --- | --- |
| Chief Patron | Director |
| Dr. Jai Narain Sharma | Dr. Harpreet Kaur |
| Gandhian Bhawan | Principal |
| Dept.of Gandhian Studies, PU Chandigarh | Khalsa College of Education, Amritsar |
| | |
Co-ordinator
Research Associate
Joint Research Associate
Mrs.Maninder Kaur
Dr. Deepika Kohli
Prof. Amandeep Kaur
Assistant Professor in Education
Assistant Professor in Education
Assistant Professor in Education
Khalsa College Of Education, Amritsar
Khalsa College of Education, Amritsar
Khalsa College Of Education, Amritsar
NSS
Guru Nanak Dev University, Amritsar has allotted 2 units of NSS to this college. Each unit is placed under the leadership of Programme Officer. The College organizes one day and ten day camps of NSS volunteers. Our NSS volunteers take part in adult education programmes, cleanliness drives, campus beautification programme, health and immunization awareness, social activities, social service, recreation programmes, celebration of important days and organizing blood donation camps.
OLD STUDENT ASSOCIATION
Khalsa College of Education celebrated its Golden Jubliee in the year 2003. To chalk out the celebration programme, a meeting of the alumni was held in the College on 17th April 2002. Dr. H. S. Soch Former Vice-Chancellor, G.N.D.U., Principal Jagdish Singh, Director Sant Singh Sukha Singh Institutions, Gurpartap Singh Gauri, District Education Officer (Sec.), Mrs Sarabjit Kaur, Principal, Govt. Girls Sen. Sec. School, Putlighar, Amritsar, Mrs. Davinder Kaur, Principal, Khalsa College for Women, S. Sawaran Singh, Principal, Baba Aya Singh Riarky College, Tugalwala (Gurdaspur), Dr. K. K. Gupta, Former Principal, D.A.V. College of Education, Amritsar,  Principal, Kewal Krishan Sahdev, Principal Joginder Singh Bawa (National Awardee), S. Kulbir Singh Suri, Principal Pardeep Kumar, Dr. J. S. Dhillon, Principal, Khalsa College of Education, Amritsar (All Old Students), S. Sukhdev Singh Khalsa and Pritpal Singh Sethi both members of the Khalsa College Governing Council, Amritsar graced the occasion.
Dr. Soch was unanimously elected the patron of the Alumni Association, and Principal Jagdhish Singh the Convenor.
The major decisions taken at this time were to hold regular meetings of the association, to start welfare programmes for students, to organize advanced courses for in-service school teachers, to make the best use of services of the old students and to make planned efforts to establish this college as a centre of advanced studies and research in education. The college is convening regular
meetings of old students association. Dr.Bindu Sharma a senior faculty has prepared a directory of old students in 2003.The second edition has been revised & updated in June 2011.
Syllabus
Master of Education (M.ed.)
BACHELOR OF EDUCATION (B.Ed.)
PGDCA (TEACHER EDUCATION)
About College
Our History
Management
Guest House
Journal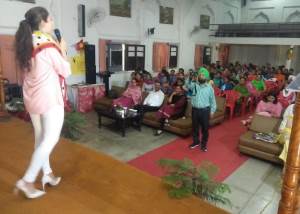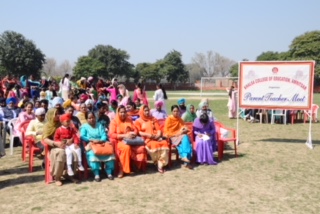 ---